New Hearing Rooms Programme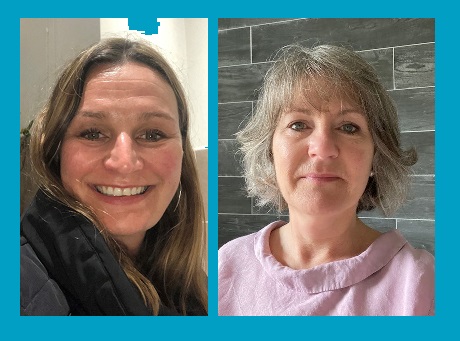 Marny Jackson, Property Development Officer, and Jennifer Orren, Participation Officer, at Scottish Children's Reporter Administration (SCRA) have been leading on the roll out of the New Hearing Rooms Programme. The first of the new-style hearing rooms was created in 2015 with a pilot in Glasgow, and since that time, multiple rooms have been introduced with young people's support and input. We spoke with Marny and Jennifer to learn more about the New HearingsRooms Programme and what's to come!
Can you tell us a little bit about how the hearings programme came to be?  
Jennifer: "Both Marny and I are members of SCRA's Participation Group and have a real interest in improving services for children and young people attending hearings. Following on from national inspections carried out by SCRA's care-experienced Modern Apprentices and feedback from other hearings-experienced young people, SCRA's Modern Apprentices and I developed the first two trial hearing rooms in Glasgow in 2015 and 2016.
"Marny, who is an architect, joined the programme in 2017 to help roll out a planned programme of specially designed rooms which were developed with young people attending hearings as well as interior designers who specialise in creating children and young people's spaces."
How did the changes come about? How were they decided?
Jennifer: "Between 2011 and 2013, multiple inspections of hearing centres and specifically, hearing rooms, were undertaken by seven of SCRA's hearings-experienced Modern Apprentices. Their feedback, which was published and is available on SCRA's website, helped create the first pilot hearing rooms."
Marny: "Additional work with new Modern Apprentices employed by SCRA in 2017 and 2018 helped to create the existing portfolio. Consistent key requests were the removal of the intimidating big tables, the introduction of a variety of comfortable seating to suit a diverse range of needs, the introduction of colour, plants, natural light and play areas for young children. When we rolled out the new portfolio of rooms we worked with young people and asked them to inspect the new rooms to see how they fit in with the young people's design concept."
Tell us more about how care experienced young people were part of the changes?
Jennifer: "Young people with experience of attending children's hearings and/or of being in care have been the catalyst for the changes which SCRA have introduced. They have been leaders for change every step of the way.  In the very beginning we started off with supporting them to undertake national inspections of hearing centres and hearing rooms to consider what might make the experience of attending a children's hearing feel safer, better and more inclusive.  Building on that, they helped to design the pilot hearing rooms in 2015 and 2016.  In 2017 and 2018 when the programme was expanded to be rolled out nationally, young people led on the design approach with the new rooms, working closely with interior designers."
How do the rooms accommodate different accessibility needs?
Marny: "Young people involved in the design programme wanted to make the rooms as accessible as possible.  They included a variety of seating options suitable for people with a range of needs, but also furniture which is easily portable to allow spaces for wheelchairs and mobility aids.  We are constantly reviewing the designs, assessing what works and engaging with young people to ensure we continue to learn."
Jennifer: "SCRA also worked with young people with autism to create sensory kits for children, young people and families with neurodiverse conditions which are available in all Hearing rooms.  Included in these kits are a wide variety of stress relieving aids including ear defenders, sunglasses, and items that you can manipulate with your hands.  Along with furniture, toys and books, these had to be removed due to the pandemic, but SCRA has launched take away sensory kits for families to have and keep as an alternative during the restrictions associated with the pandemic."
How many new hearing rooms have been rolled out so far?
Marny: "To date 30 hearing rooms have been upgraded, with large tables being removed and more colourful, soft seating provided to replace the traditional meeting room- style furnishings."
What is the plan for more being rolled out in the future?
Jennifer: "SCRA continue to commit to rolling out the Hearing Rooms Programme. In 2021-2022 there will be 6 more rooms introduced across the country as well as a dedicated sensory room in Glasgow for people with a variety of additional support needs, sensory difficulties, autism and neurodiverse conditions which we are designing in consultation with specialists working in this field as well as young people with neurodiverse conditions. Within two-three years, the roll out will be complete, in terms of removing the 'big tables' from hearing rooms and providing a more colourful set of furniture and decoration."
Read more at SCRA's website here.