New Board members appointed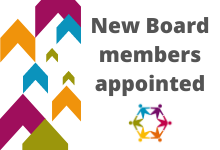 The Minister for Children and Young People, Clare Haughey MSP, today announced the appointment of Katie Docherty and Sean Austin to the Board of Children's Hearings Scotland (CHS).
Katie and Sean will join a current Board of six led by Chair, Garry Coutts. Garry said, "We are delighted to welcome Katie and Sean who bring a wealth of experience and knowledge to the Children's Hearings Scotland Board. Both are recent Panel Members and have extensive experience of the children's hearings system. They are passionate and committed to supporting us in making changes that will improve the experiences of children, young people and families in children's hearings."
Katie is currently Chief Executive of Scouts Scotland and a volunteer Beaver Leader. She has extensive governance and board experience, and has been a Panel Member for three years.
Katie said, "I passionately believe that we must ensure everything we do is in the best interests of children and young people. This value is what inspired me to volunteer to become a Panel Member and now Board member at Children's Hearings Scotland and it's why I work for a children's charity. 
"If we are to keep The Promise that every child grows up loved, safe and respected - able to realise their full potential - we need to ensure that the redesign of the children's hearings system is child centred."
Sean has significant senior management experience and governance expertise, and having been a Panel Member for five years, he has a deep understanding of the children's hearings system. During a long career in the private sector, Sean held a number of executive director roles.
Sean adds, "I believe in a children's hearings system where the child and young person is at the very heart of their hearing. I am committed to bringing my experience as a Panel Member to my Board role, to support our community in this next chapter of the hearings system.
"With the hard work of the CHS team, for example in the publication of the Children's Rights and Inclusion Strategy, I believe we are in a prime position to fulfil The Promise." 
The Children's Hearings Scotland Board is made up of members with a range of life experience including Panel Members and individuals with lived experience of the children's hearings system.
To find out more about our Board, visit the 'Our Board' page.